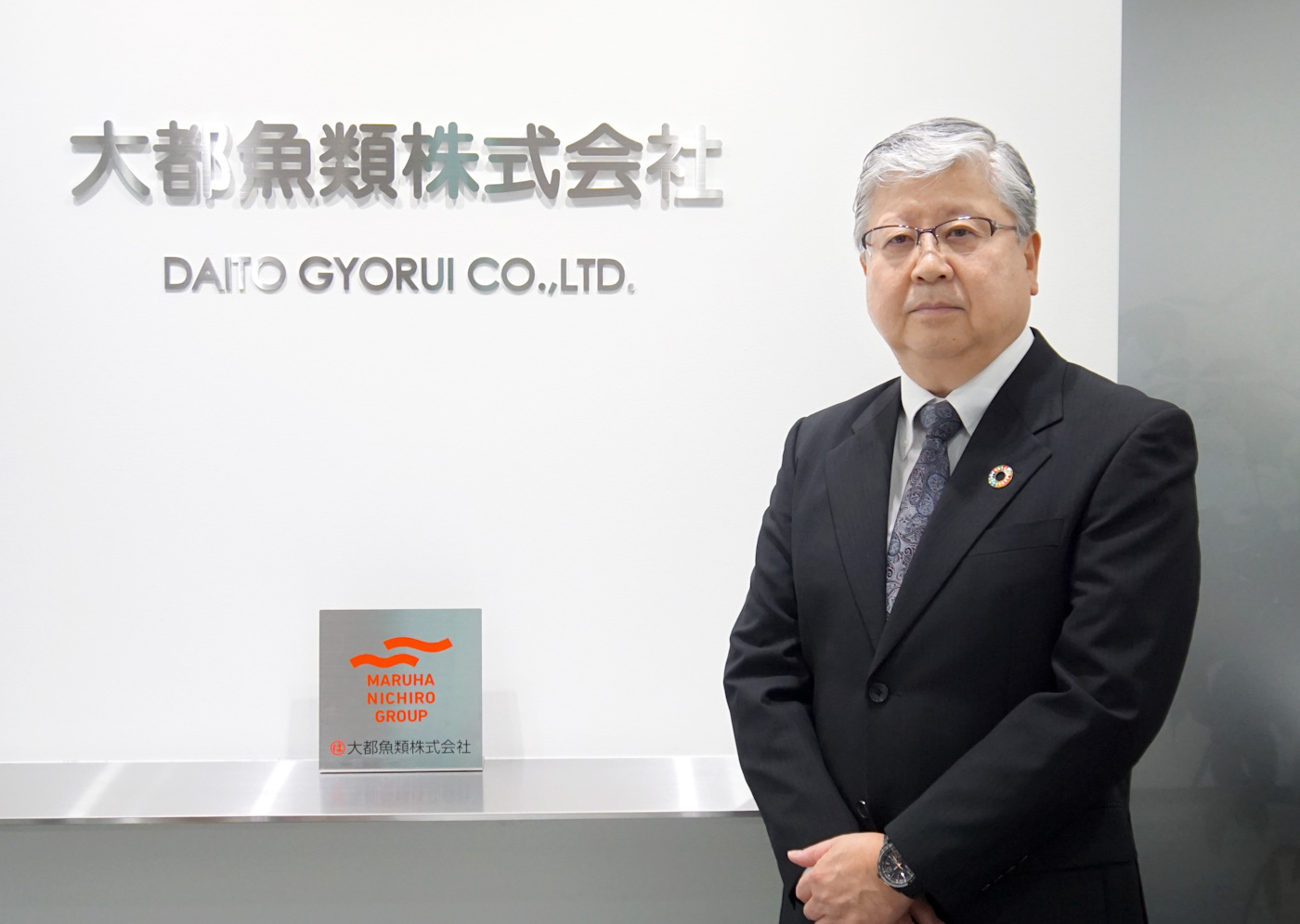 Core company leading the Marine Products Wholesaling Unit of Maruha Nichiro Group
Daito Gyorui Co., Ltd. was founded in 1947 in Tsukiji Market as a fish wholesaler serving as a base for sales of seafood supplied by Taiyo Fishery Co., Ltd., Maruha Nichiro Corporation at present. Since then it has been supporting the largest market in Japan which nourishes about 33 million residents in Tokyo Metropolitan area, and is playing a part in the Group's annual turnover that is on the world's largest scale in the fish business.
MESSAGE
Inheritance of Tradition from Tsukiji and Challenge for the Future
Based in the heart of Tokyo Metropolitan Central Wholesale Market, the Toyosu Market which newly opened in October 2018, we aim to inherit the long-established tradition and know-how from Tsukiji and to develop further towards the future. With our best attention paid to the conservation and sustainable use of the marine resources of the world, we will do our best to strengthen our power to procure and supply seafood to the market and moreover engage ourselves to face a challenge of expansion of the business in the off-board market in order to cope with the growing demand by the intermediate wholesalers and authorized buyers for the value-added products by way of the primary processing of fresh fish at one of our subsidiaries, Tsukiji Fresh Maruto Co., Ltd.

In token of engagement to sustainable use, management and protection as well of the marine resources for sustainable development down the generations and in consideration of the reform of the Japanese Fisheries Law in 2018, we have obtained the certification by Marine Eco-Label Japan. In addition, having become certified to ISO22000, we are the first fish wholesaler in Japan to conduct its business in conformity with the international standards for Food Safety Management. Never content with the current position, we make endeavor to continue our challenge at every chance for unceasing evolution of the Company.

Daito Gyorui Co., Ltd.
President Hiromi AMINO
INFORMATION
COMPANY PROFILE
Company Name

DAITO GYORUI CO.,LTD.

Head Office

6-6-2 Toyosu, Koto-ku, Tokyo

Branch

Senju Branch / 50 Senju Hashido-cho, Adachi-ku, Tokyo
Ota Branch / 3-2-8 Tokai, Ota-ku, Tokyo
Narita Branch / 39-1 Iinaka, Narita-shi, Chiba

Established

1st October, 1947

Paid-in Capital

\2,628 million

Annual Turnover

\109,435 million (Fiscal Year ended 31st March 2018; CONSOLIDATED)
\102,867 million (Fiscal Year ended 31st March 2018; non-consolidated)

President

Hiromi Amino

Main Business

(1) Outright purchase & sale and consignment sales of fresh & frozen fish and processed marine products
(2) Import and export of fish and marine products
(3) Business of real estate and parking lot
(4) Business and investments incidental to the above

Affiliates
(Daito group)

Maruto Reizo Co., Ltd. (Aomori) - Fish processor, cold storage
Tsukiji Fresh Maruto Co., Ltd. (Tokyo) - Fish processor, wholesale, retail
Daito Service Co., Ltd. (Tokyo) - Transportation
HISTORY
COMPANY HISTORY
1947

Established as an authorized wholesaler in Tsukiji Fish Market, Tokyo with the object of selling, buying and consignment of fish and marine products.

1948

Opened Senju Branch in Adachi-ku, Tokyo.

1950

Obtained the license as a fish and marine products wholesaler designated by the Tokyo Metropolitan Government under the Central Market Law.

1962

Listed stocks on the Second Section of Tokyo Stock Exchange Market.

1996

Opened Ota Branch in Ota-ku, Tokyo, thus completed Daito's own business network in the major fish markets in the Tokyo Metropolitan area.

2004

Merged the affiliate company Narita Uoichiba Co., Ltd. and opened Narita Branch in Narita, Chiba and expanded the network.

2018

Along with the closure of Central Market in Tsukiji and its renewal opening in Toyosu, the Company moved the head office from Chuo-ku to Koto-ku, Tokyo.
DEPARTMENT
MAJOR SALES DEPARTMENTS
TUNA DEPARTMENT

This department sells the wild and farmed tuna from local fishermen and Australia, Mexico, Europe as well, mainly by auction, 800 to 1,300 pieces a day. We handle fresh & frozen bluefin tuna, southern bluefin tuna, bigeye tuna, yellowfin tuna as well as striped marlin and swordfish.

FRESH FISH, LIVE FISH & HIGH-GRADE FISH DEPARTMENTS

These departments annualy handle more than 100 species of wild and farmed fish and shellfish in live and fresh such as snapper, horse mackerel and puffer, from Hokkaido to Okinawa and from abroad such as New Zealand, U.S.A., Spain, China and Korea . We have large live fish tanks with filtering and circulation system in the market. We hold the top share in shellfish.

Frozen Fish Department No.1 No.2

These departments handle all variety of frozen fish and shellfish caught in most of the oceans of the world including Japan. The purchasing is made directly or through trading companies and fishery companies in order to supply products to the domestic manufacturers of processed foods. We also develop and import our original products produced by the allied factories abroad. We have the top share of the frozen octopus and cuttlefish in Japan.

PROCESSED FOODS DEPARTMENT & SALTED-DRIED DEPARTMENT

These departments handle Japanese traditional products such as salt-dried butterflied alfowsino, butterfish and horse mackerel as well as salted pollack and herring roe and dried whitebait and sardine. Dried squid and capelin as well are important items. We also handle Surimi products such as kamaboko, chikuwa and satsumaage produced by domestic manufacturers and the frozen processed products like smoked salmon and grilled eel.

Sales Planning Department

Sales Planning is the one of the latest and characteristic functions delived from the Fresh Fish Department. This team has been established to respond to the wide needs of the customers such as supermarket chains, large fish merchants and food services.

International Trade and Marketing Department

This department imports products from the customers all over the world, about a half of which are fresh and live fish and some by air. One of the major objectives of the department is to develop new items and suppliers abroad. The others are development of local products, marketing analysis and promotion in Japan.